Our recent and spirited discussion of "McDojos" and mob justice was recently picked up at another forum. Apparently, the forum administrator is upset that I turned off comments on the original post, because he didn't get an opportunity to express his dissenting viewpoint. In the interests of fairness and education, I will summarize his rebuttal here.
My Point: McDojos exist only because customers want them. These customers are not always honest about their motivations, especially during a hostile interrogation.
Counterpoint: No comment.
My Point: When given a choice between looking foolish in front of a crowd (by admitting their voluntary participation in a McDojo), and looking smart (by accusing their former McDojo of fraud), people will naturally choose the latter, whether it is true or not.
Counterpoint: No comment.
My Point: While McDojos are typically attacked for failing to satisfy their inquisitors' definition of "martial arts," that definition is itself fraudulent, i.e. without basis in cultural or historical fact.
Counterpoint: No comment.
My Point: Attacking so-called "martial arts frauds" online is far easier, and more profitable than actually teaching martial arts.
Counterpoint: No comment.
My Point: Those who would shut down the McDojos do not offer a compelling alternative, and are probably incapable of doing so, lacking an understanding of McDojos' real function as defined by their customer base.
Counterpoint: No comment.
At this point you may be wondering, what is the rebuttal that we all needed to hear?
Here it is: I am a 90lb twat who types with his pinkies in the air, and you are all developmentally disabled.
In other words, they desperately wish to change the subject.
OK. I accept the concession, and will not belabor my point any further, as that would be unsportsmanlike. But before dropping it altogether, my dear disabled readers, let's squeeze these lemons dry!
Martial Development Charity Drive
If you have enjoyed Martial Development this year, I now ask for a small token of your appreciation; not for myself, but for the less fortunate among us. Five or ten dollars is enough; give more if you can, less if you must. Here is a list of deserving charities to choose from, or you can go with Special Olympics.
(In the spirit of the season, why not make your donations in honor of "Jack Frost"?)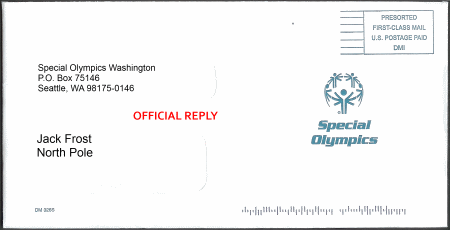 After doing that, I would like you to leave a comment below, with the name of the charity you have chosen, and the amount given. (Feel free to omit your full name for privacy reasons.) Let the sum of those comments serve as evidence that martial artists can make a positive difference in the world, if they are properly motivated.
Given the number of subscribers and daily visitors here, I hope for at least 50 comments! (Until that number is reached, there will be no more posts on this blog.)
Merry Christmas and Happy Holidays!