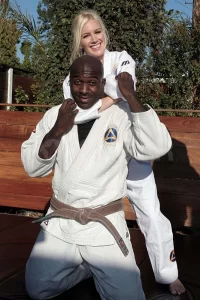 Last week, I asked a random group of martial arts instructors and students the following question:
Do you think dating in the dojo is a good or bad idea? Why?
Here are their answers…
Jessica (Black Belt Mama):
I am torn on this one. On one hand, it's a great way to find someone with common interests. However, a dojo is like a family and if two of the family members are dating and something doesn't work out, that could spell big trouble for the dojo. I guess if I have to take a side, I'd say that dating in the dojo is a bad idea. However, married dojo members are quite common in my dojo and that seems to work just fine.
Lori (Jiu-Jitsu Sensei):
It can be both a good or bad thing. If the couple in question maintain a "professional" relationship on the mats and the romantic relationship goes well, it can be a great thing. Their training can be a bond that helps strengthen their relationship and vice versa.

It can, however, be a bad thing too. If they can't keep their relationship issues off the mat it can create awkward social situations at the dojo. Or if the couple has a bad break-up it may lead to one or both people leaving the dojo.

Whatever way you look at it, in my opinion, a Sensei has no right to meddle in the affairs of their students and tell them who they can or can't date. This leads to one of two things. 1) The couple dates in secret and do whatever they're going to do in spite of any "policies" you may have. Or 2) One or both people may leave the dojo so that they can pursue the relationship unfettered. The best thing you can do as a Sensei is to encourage the couple to remain professional while on the mats and hope for the best.
John (Dojo Rat):
My old Tae Kwon Do Master, Mr. Choi told us "We should not fish off our own docks".

Of course, nobody paid attention to this. I'd say at least three of my girlfriends were in that Tae Kwon Do school.

I would say it never affected school policy. Everybody seemed to be dating, and as it was a large school with many satellite branches there were lots of potential partners. Of course, it was the late '70's-early '80's– sex, drugs and rock and roll…

I never saw anyone abuse the instructor/student relationship.
Jesse (Karate by Jesse):
Thinking about what should and should not be going on in the dojo instinctively brings me back to Okinawa, from where I have quite a few memories of "broken" social codes (of which there are surprisingly many!) in the dojo.

To sum it up – No, I don't think dating in the dojo is a good idea. The dojo is a zone where you need to be able to shut off the 'outer world' (with its distractions and obligations) and focus completely on yourself and your own progress on 'the path'… Without having to worry about romancing the opposite sex at the same time! This must be respected by everyone.

However, what happens before and after the "SHÔMEN NI REI!" is another thing… <3
What do you think? Is dating other members of your dojo a good idea?