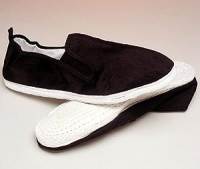 I have always been a fan of cotton-sole kung fu slippers. They are very cheap, and very comfortable. With their soft and smooth bottoms, they don't scuff hardwood floors, and they don't tear vinyl or canvas mats.
Cotton shoes do have some weaknesses, though. They absorb water and dirt, so you can't really wear them outside. And unfortunately, they tend to slip a bit during kicking, jumping, and tumbling exercises. It was for these reasons that I recently decided to upgrade my footwear.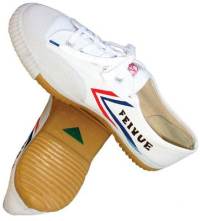 Feiyue (a.k.a. Feivue) sneakers are my new studio shoes. Feiyues are an iconic wushu brand, and a very popular choice among Chinese martial artists. Feiyues are made of canvas and rubber, lightweight with a thin and flexible sole. They are available in white and black, low-cut and high-top styles, for as little as $15.
After wearing the Tiger Claw version for a few months, I have mixed feelings about these Feiyue shoes. They are cut a little too narrow for me personally–unlike cotton slippers, they do not stretch to fit the shape of the foot. Also, for reasons I cannot fathom, Feiyues have round bottoms! When you place a slightly concave foot into the slightly convex bed provided by these sneakers, the natural result is instability. Depending on your perspective, you may interpret this as an additional training challenge, or a needless nuisance.

Outside the studio, I prefer my pair of Replay Arnolds. Their design is a cross between Feiyues and Adidas Samba Classics. Anyway, if you need a second pair of sneakers for martial arts training, and don't want to spend fifty or one hundred dollars, give Feiyue a try.
What is your favorite martial arts footwear, if any?