VANCOUVER—Local Kenpo karate instructor Dick "The Tiger" Rickson has a message for his students: Stop breathing improperly, or die.
As the newest inductee into the Red Belt International Karate Hall of Fame, Rickson knows a little something about breath. More than one hundred eager and respectful learners in his three area Kenpo dojos obviously agree. Some join for health and fitness reasons, others for self-defense–but no matter the primary motivation or goal, all are tutored in the ancient ways of breathing.
Senior student Brent Adler testified to the importance of correct respiration. "When I first met sensei, he said I was weak and had no self-confidence, and it was all due to my lazy, careless breathing habits. At first I didn't believe it, but then I watched his demonstration."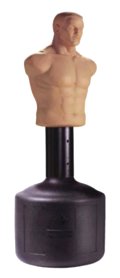 "B.O.B." dummy
Happy to share his own hard-won martial arts knowledge, Adler repeats this show monthly for a fresh group of recruits.
"The essence of correct breathing lies in controlling inhalation and exhalation. Always coordinate an advance with your exhale; match a retreat with an inhale. When you strike, breathe out forcefully through the mouth; when you block, breathe in calmly through the nose." Adler punches a stationary training dummy, known as "Bob", to prove the effectiveness of his breathing technique. "With time and self-discipline, this drill builds your ki energy power," he said.
Rickson-sensei is not without his critics. Other martial arts experts have charged that his "proper" Kenpo breathing methods are laughably crude, and blind to the subtleties of combat and medical science. Pointing to a long line of trophies along the window, Rickson dismisses these objections. After winning more than a dozen regional and national one-step sparring competitions, he replies with quiet confidence, his track record speaks for itself.
"To become a true Kenpo warrior," teaches Tiger Dick, "one must humbly respect and master the art of breath."