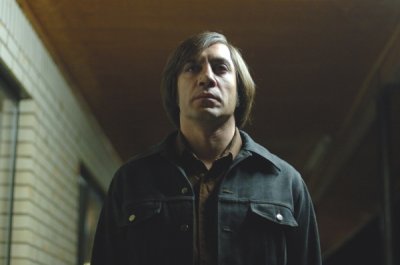 Long before the invention of the blog, and even before the creation of the World Wide Web, there was Usenet. The world's first electronic social network was established in 1980, and martial artists have been arguing there ever since.
Back in the late 1990s, I started reading the rec.martial-arts newsgroup as most people do, with posts sorted by discussion topic. I soon discovered that, since 90% of the replies on any given topic were rubbish, it made more sense to sort by author instead. Although I abandoned rec-martial arts years ago, due to its low-signal-to-noise ratio, I can still remember the names of some of my favorite writers. At the top of that list, I place the mysterious Ordosclan, also known as Turiyan Gold.
I don't know Ordosclan's real name, or his training history. I don't know how many of his posts were written under the influence of anti-psychotic medication, as his critics claimed. Perhaps not enough of them.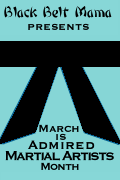 Ordosclan's martial arts commentaries were sagacious and entertaining, sometimes cryptic and unfortunately brusque. In honor of Black Belt Mama's Admired Martial Artists Month, I'd like to highlight a few:
In boxing, the boxer keeps his hands up on either side of his face for protection. Punches are thrown from this position. One hand goes out, the other stays by the face for protection.
Why does karate require that you throw a punch from the hip? What is gained by this?
The point of pulling the fists back is to open the chest. Doing so during stance changes makes it harder to use the arms for balance. It's not for punching. Punches done from the hip are just a training exercise. The Japanese simply copied basic Shaolin from the Chinese. Some teachers try and read ridiculous theories into why something is the way it is: "It's for qi," "it's for jing," "It trains you to monkey elbow a guy that puts you in a bear hug from behind", etc.

If you start taking things out of MA that are not combat-relevant, you're left with punches and kicks, knees and headbutts. The simple answer is: it's not martially oriented. Its just a myth that Shaolin monks are/were "fighting" monks. That's nonsense. And everyone knows it.

Why So Few Kicks In [Taekwondo] Tae Geuk Forms?
Isn't TaeKwonDo known to be a martial art that especially prides itself on its powerful, beautiful kicks? Why then do these sets of patterns, which are the two sets most often used to represent two very popular styles of TaeKwonDo, incorporate very few kicks?
Walter Mitty walks in and wants to learn Korean Karate, but can't even bend over and touch his toes. Guess what his first 3 belts are going to consist of?
He's always at a state of complete calm and CONSTANT neutrality - nothing ever was statically positive or negative with him, therefore, he was always one with truth in the "living".
Sounds like a combination of sarcasm and hyperbole. Bruce was unable to reconcile the issue of principles vs. techniques vs. methodology…

Dualism, like that touted in Chinese Taoism, is just a matter of words. Semantics. Semantics is text, without context. And text without context is pretext.
Yellow Bamboo: Indonesian Empty Force
Alvin has shown video of Yellow Bamboo knocking people down without touching them. I am keen to see if this can be done in reality. If you are interested in doing a no touch knockout on me the same as I have seen on video I would love to meet up to do it.
There are other methods of inner power in Indonesia…it's not all about "knocking people over". This is just one method, a [provincial] "village art" if you will. Reiki, Yellow Bamboo, it's all pretty low grade stuff…

Perhaps you have another definition of austerity that most people have. Since when has the MA world been inspired and driven by pragmatics? If you were to omit things in the so-called "martial arts" due to ineffectiveness or superfluousness, you'd essentially have boxing and wrestling.
You have to focus on health before martial application. You can't take a guy with bad eyes and sniffly nose and weak knees and tell me he has "internal strength". Helloo buddy. Your liver is your eyesight. Your kidney is your knees and back. A chronic nasal condition forbids certain exercises where you must only breathe through the nose. If you can't breathe through your nose most of the time, then you have to treat that condition until it goes away, or else that's your glass ceiling…
Reading sutras is not the path to Buddha-land
One cannot access or experience Bodhi while at the same time experiencing or suffering the mundane affairs of daily life. This is what is implied when Bodhidharma entered the cave and became "enlightened". In psychological terms, he withdrew from the dyadic circuit of social interaction.
Dillman protege debunked as a fraud?
The whole [TCM] belief system is retarded. I've actually read some of this stuff for amusement at the local book store...
It's not a belief system. It's a work system. Get it straight. Belief is the Western/Christian privilege: read a book on dim mak, you know everything about dim mak. That's like saying: "I read a book on feng shui, now I can just believe [into existence] a balanced environment and relationships…because I went through the motions of moving my eyes back and forth over a piece of paper, and formed various verbalizations, rationalizations and judgments based on what I saw"…

Chinese medicine was "transformed" by empiricism since a very, very long time ago. Pulse reading, tongue diagnosis, urine and scatology, all empirical. That's "scientific". You just don't understand it.
The terms neikung and weikung are misnomers. Neikung is supposed to be esoteric. Weikung is supposed to be exoteric. The old texts say there is ONLY ONE golden elixir method (but then list hundreds of schools and methods). If you're not doing that ONE golden elixir method, you're not doing neikung. What you're really looking for are internal exercises as opposed to external exercises. Like heikung…[Hung Gar] threading bridge, dynamic tension, etc…

What you are looking for cannot be obtained without great difficulty. People really don't talk much about their neikung…it's like starting a conversation with a stranger about politics and religion.
The Meanings of Tai Chi Postures
What are the discrepancies (if any) in the following Tai Chi postures?
a) Lift hands vs. Play Guitar
b) Diagonal Flying vs. Part Wild Horses Mane
c) White Crane Spreads Wings vs. Step Back and Ride the Tiger

…Interpretation of function leads to degradation of structure. If a posture can be rooted to a canonical reference, pre-natal or post-natal posture, then that's the ultimate authority on the subject. Period.
"Wisdom" is a comfort zone you get into where you never have to do or learn anything new…one must carry on the tradition of 10,000 year old fighting principles handed down from tree lichen on principle…

Forget principles, structure is principle. You have to stay in structure, or you're not principled. You can't forget the rules and say, "sure, all martial arts are equal"…there isn't a infinite multiplicity of ideas and principles. The human body only works certain ways. How many different kinds of levers are there? How many kinds of fulcrums?
To Gong Sau or not to Gong Sau, that's the question
I have been more then a little skeptical about the martial application of Tai Chi. It doesn't look like fighting to me, and I've been told that I can't judge it before I have "felt" it.
THERE IS NO CONNECTION BETWEEN TAIJI AND APPLICATION.
This would be someone trying to suggest that fajing is kinematics or some nonsense about bones and joints and alignment…

If you learn one thing from TCM and Chinese folklore, Ayurveda, etc., you learn that the ancients—whether they were space aliens, faeries, devas, immortals, ghosts or the spirits of dead ancestors or some scholar or king—knew a WHOLE LOT about the function of the "internal organs" but, apparently, didn't know JACK about human anatomy and physiology. This contradiction EXISTS FOR A REASON.

If you want to base your ideas on A&P, become a general practitioner of Western medicine. Leave the folklore, Chinese black magic, shamanism, feng shui, TCM, herbs and magic potions and secret hand signs to the people that are preordained by heaven to be the capstones of those systems. There are just some things which are inseparable from Chinese culture, that are inseparable from qigong, herbs, feng shui, weiqi, calligraphy, etc. To try and modernize them with asinine theory of empirical "science" and physiological facts is pure and utter nonsense.

The Chinese liver is not the Western liver. The "pores", "skin" and "joints" are not even the same thing as spoken of in human anatomy and physiology…where A&P and empirical science and physics end, this stuff starts.

[In shamanic medicine] you treat the root, which isn't the same as saying "cause and effect". The physical body is the effect. It's a moot point. It's not Daoism, it's not Buddhism, it's not Zen; it's dualistic realism. The "hierarchy of values" starts at the immaterial (brahma or ether) and cycles down to matter which is stasis (even Newton said matter is a stasis)…

Tilopa said the root of all disease is the mind. Well, your "mind" is more than a body, more than feelings, and more than emotions. If you haven't realized that, than forget any of this stuff and take up a real sport or exercise routine…

You don't look at structure for function. You look at structure as manifestation of function.
Someone asks: "How many licks does it take to get to the middle of a tootsie roll lolly pop?"

I reply: "Is the pop hitting the tongue, or is the tongue hitting the pop?"

A Zen master would think when licking a lolly pop: "What is the lolly pop?" He continues to lick, till there is nothing left. The idea of pop has fallen away. He tosses the stick aside. The lolly pop has become him.

You see, one may erroneously attach meaning to the lolly pop, but when the pop has disappeared, the stick is meaningless…We throw it away. Why not eat the stick part? Because we are no longer attached to it.
Ordosclan is racist, sexist and rude (I edited the selections above). He is also one of the most brilliant martial arts writers I have ever encountered. So, if you have an hour of free time, and are not easily offended, I encourage you to browse his crooked oeuvre in the rec.martial-arts newsgroup [NSFW].
P.S. And if you disagree with any of his opinions stated above, please explain why.