SKOKIE, IL—Toshiro Tenchumaru, a 34-year-old ninja and longtime employee at Azuma Copier Corporation in Skokie, stealthily took the lives of 12 co-workers Monday after suffering what investigators theorize was "a breakdown due to job-related stress."
The disgruntled ninja was later captured by police while attempting to flee on foot across telephone lines.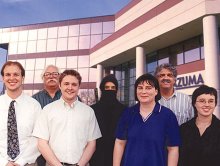 Tenchumaru, who, according to office manager Diane Ellsworth, had been "unusually quiet lately, even for him," was reportedly deeply upset about his worklife.
Following a 9 a.m. staff meeting in which management discussed the possibility of eliminating Tenchumaru's position as Special Secretary For Nocturnal Liquidation, the ninja rose, gave a shallow bow and returned to his shadowy cubicle.
Ellsworth said that shortly thereafter, she and other employees could hear what sounded like a Shinto death-consecration ceremony, as well as "sharpening sounds," coming from Tenchumaru's cubicle.
The first deaths are believed to have occurred just minutes later.
Read the complete story at The Onion.