There is a man in Indonesia who is a master of the ancient Chinese science of neikung, or "internal power." His name is John Chang, and he is my teacher. Mr. Chang was first presented to the world in the award-winning documentary series Ring of Fire, filmed by the brothers Lorne and Lawrence Blair; his privacy was protected by the rather ignominious pseudonym Dynamo Jack. In this documentary Master Chang shocked the world by demonstrating the impossible: First he generated an electrical current of high amperage inside his own body to heal Lorne of an eye infection, and then he "zapped" Lawrence (and their sound recordist) utilizing the same energy. In a dramatic conclusion Master Chang then used this bio-energy to set a crumpled-up newspaper ablaze, warning the researchers that the same power that had healed Lorne could readily be used to kill a man as well.
So begins The Magus of Java, a wonderfully entertaining book by Greek engineer and martial artist Kosta Danaos. After watching the video below, Kosta traveled to Indonesia, became an indoor student of the Mo-Pai, and wrote two books about his experiences.

Ring of Fire: East of Krakatoa
These books do not detail the secret Mo-Pai training methods, only noting that they include sitting and standing meditation. However, they are filled with fascinating information on the history of martial arts, medicine, spirituality, and esoteric practice—plus a few anecdotes about telekenesis, fortune telling, and immortality.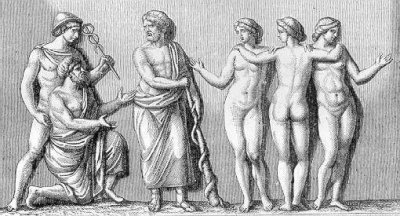 Greek god Hermes visits Asclepius and his daughters
An ancient Western depiction of kundalini energy?
Years ago, Kosta entertained questions about nei kung, the Mo Pai, and his books on the Wenwukuan website forums. Unfortunately, he decided to shut down the English-language website in 2003, and I didn't think to download a copy.