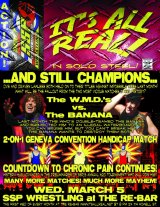 Where do you draw the line between real fake wrestling and phony fake wrestling?
Seattle Semi-Pro (SSP) Wrestling performers and their fans await the answer from the Washington State Department of Licensing. The decision will determine whether their oddball institution goes down for the count.
The man who blew the whistle on them: a former SSP grappler-turned-real-archenemy known as The Banana.