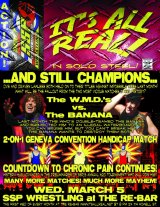 Where do you draw the line between real fake wrestling and phony fake wrestling?
Seattle Semi-Pro (SSP) Wrestling performers and their fans await the answer from the Washington State Department of Licensing. The decision will determine whether their oddball institution goes down for the count.
The man who blew the whistle on them: a former SSP grappler-turned-real-archenemy known as The Banana.
A satirically trashy, riotous homage to TV pro wrestling, SSP has been in limbo since a January 7 emotional blowout that might have been its final show. The ultimate smackdown is scheduled for today, when the Department of Licensing will begin a hearing to determine if Ronald McFondle, Domestic Violence, Mascara Generico and their colleagues are a "fight-cabaret theater troupe," as they claim, or professional athletes subject to regulations and fees that could put them out of business.
Revenge of the Bruised Banana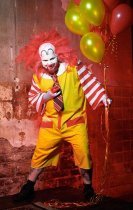 Ronald McFondle
For about six years, the monthly events had drawn hundreds to King Cobra on Capitol Hill — where audience members threw empty beer cans at the performers and later, because of the occasional full can, less-painful plastic balls.
Enter The Banana—aka Paul Richards, 40. He had left the outfit disgruntled after about a year and a half of piledrivers, suplexes and leg drops. SSP co-founder Nathaniel Pinzon, 31—aka Deevious Silvertongue—said The Banana was meant to lighten up a roster of characters that were in the PG-13-to-R range. But Richards said Pinzon and the other organizers were turning The Banana into a joke…
[Story continued in The Seattle Times. Or watch The Stranger's R-rated interview on YouTube.]