Recent diversions and entertainments from the world of martial arts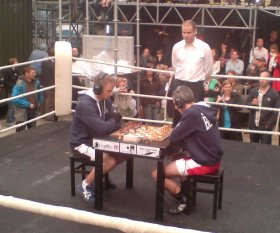 Chess boxing
Credit:
Sascha Pohflepp
Nikolay Sazhin new world champion in chess boxing's light heavyweight division
The 19 year old challenger, Siberia's Nikolay "The Chairman" Sazhin, was able to execute his strategic chess concept against the more experienced world champion, Frank "Anti-Terror" Stoldt. Sazhin then used his superior boxing skills to ram home the advantage.

After carefully approaching his opponent in the first round with a Slav defense, Frank Stoldt took a heavy right hand to the chin in the following round which led to a standing eight count. Stoldt then demonstrated the experience gained from 3 title bouts, recovering to endure three more rounds without slipping further behind.

At the beginning of the 5th round, however, the contest culminated at the chessboard. The wily youngster Sazhin lured Stoldt into a false sense of security. With his bishop in severe danger near the center of the board, Stoldt made a horrible blunder, overlooking a concealed threat to his queen…
[continued at the World Chessboxing Organization website]

Rapa das Bestas: The Spanish Horse Wrestling Festival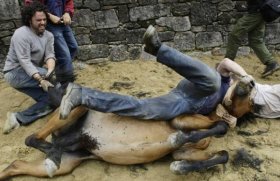 People gather all the untamed horses in a corral, where men and women of all ages wrestle them to the ground with their bare hands, to cut their manes and tales out and brand them. This fiesta goes on for about three days starting the first Saturday of July.
[photos at Blame it On the Voices]
Thumas Kurz' Unbreakable Fighting Umbrellas
The entourage of the Philippine president, Gloria Macapagal-Arroyo, has an unusual secret weapon. Her security team defends the head of the government with umbrellas. Not ordinary umbrellas, but unbreakable fighting umbrellas. Watch the video to see the combat-brolly in action, and marvel as Thomas Kurz ("the world's foremost expert on flexibility training") viciously splits a watermelon in two.

"Unbreakable" umbrella dishes out punishment
Current Martial Arts Bestsellers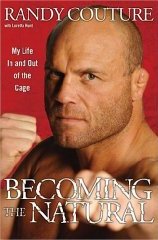 ChiRunning by Danny and Katherine Dreyer
Becoming the Natural: My Life In and Out of the Cage by Randy Couture
Unarmed Fighting Techniques of the Samurai by Masaaki Hatsumi
Mixed Martial Arts: The Book of Knowledge by BJ Penn
Martial Arts 50 Movie Pack Collection starring Sonny Chiba, Jackie Chan, and Chow Yun Fat
Meditations on Violence by Rory Miller (not a bestseller yet, but I recommend it anyway)
A Very Bad Month for Watermelons…
Senior police officers have been warned to look out for a new knife which can inject a ball of compressed gas into its victim that instantly freezes internal organs. The 'wasp knife', which can deliver a ball of compressed gas capable of killing its victim at the press of a button, may be heading for Britain, the Metropolitan Police fear.

Wasp injection knife demo
Real-Life Mutation Confers Superhuman Strength and Speed
"Jaw-dropping strength. Breath-taking speed. Phenomenal agility. Olympian feats." With origins and abilities worthy of fitting a comic book hero, these are words that reporters and doctors have used to describe Liam Hoekstra. The thing is this: Liam is only a toddler.

Liam was adopted at birth by the Hoekstra family…who quickly began to notice Liam being able to do things out of the ordinary. Two days after birth, he was able to fully stand-up and support his own weight, given someone held his hands. Months later he began developing ripped abs, naturally doing pull-ups, inverted sit-ups, Olympic styled iron cross, thigh muscles compared to that of Lance Armstrong and even punching holes into walls during tantrums (accidentally gave his Mom a black eye once as well).

After further investigation into Liam's ability, doctor's found he was genetically unique as he has a condition called myostatin-related muscle hypertrophy.
[continued at Shoutwire]
Fight Back to School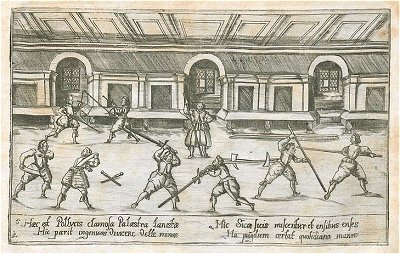 Credit: peacay
This album of thirteen engravings of university life in Germany was designed by Johann Christoph Neyffer and the plates were produced by Ludwig Ditzinger somewhere between 1589 and 1600. The trouble with the modern education system is that there is far too little attention paid to jousting and quarterstaff combat.
[more pictures at BibloOdyssey]
Hat tips to North Star Martial Arts, Neatorama, Life-giving Sword, FitBuff, Art of Manliness and Wired Gadgets.