Land of the Free, Home of the Brave?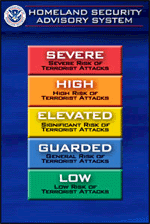 Trenchant and timely words from Eric Hoffer, one of Bruce Lee's favorite philosophers:
There is always a danger that the suppression of a specific clearly defined evil will result in its replacement by an evil that is more widely diffused—one that infects the whole fabric of life. Thus, the suppression of religious fanaticism usually gives rise to a secular fanaticism that invades every department of life. The banning of conventional war-making may result in an endless undeclared war.