Tak Toyoshima's comic, Secret Asian Man, celebrates Asian-American stereotypes with politically incorrect humor.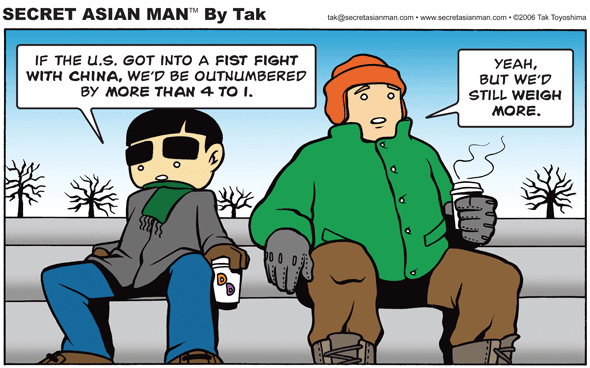 If the U.S got into a fist fight with China, we'd be outnumbered by more than 4 to 1.
Yeah, but we'd still weigh more.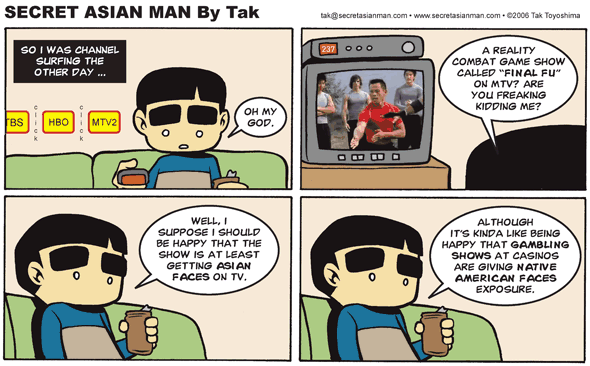 So I was channel surfing the other day…
Oh my god.
A reality combat game show called "Final Fu" on MTV? Are you freaking kidding me?
Well, I suppose I should be happy that the show is at least getting Asian faces on TV.
Although it's kinda like being happy that gambling shows at casinos are giving Native American faces exposure.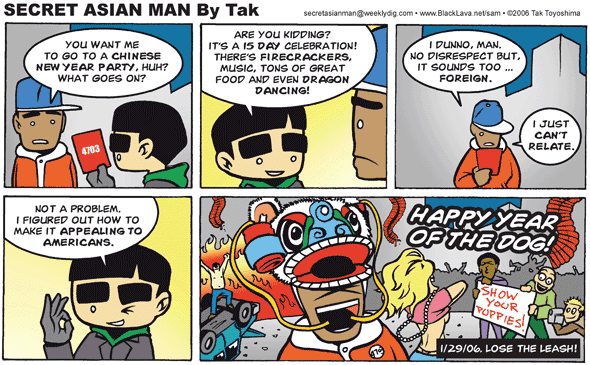 You want me to go to a Chinese New Year party, huh? What goes on?
Are you kidding? It's a 15 day celebration! There's firecrackers, music, tons of great food and even dragon dancing!
I dunno, man. No disrespect but, it sounds too…foreign. I just can't relate.
Not a problem. I figured out how to make it appealing to Americans.
Happy Year of the Dog! Show your puppies! Lose the leash!
You can read more Secret Asian Man strips in the IMdiversity archive.