Qigong and Energy Arts Forum is a collection of the best new articles and resources on the topics of qigong (chi kung), reiki, ayurveda, kundalini yoga, and other related disciplines.
Jim Nance on Spring Forest Qigong with Mary Treacy O'Keefe (Hope, Healing and WellBeing)
Jim Nance was once a black belt Kung Fu fighter and a professional basketball player, until a series of serious injuries forced him out of the game. For the next 25 years, he traveled around the world seeking solutions to his physical and emotional challenges. He finally settled on Chunyi Lin's Spring Forest Qigong, becoming the first American master of the system. Listen to his recent interview on Web Talk Radio.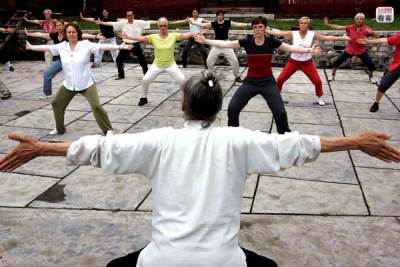 Wudang Qigong
A Photographic History of Modern Qigong by CinaOggi
Deep breathing, self-controlled meditation, and little movement, which are usually involved in performing Qi Gong, are not harmful. The cult of Qi Gong, however, is not based on its effectiveness in health care. The "spirit balance" it gives and the quasi-religious mood involved in performing Qi Gong partly accounts for its popularity. Around 1985, Qi Gong began to closely connect with another cult—the cult of "special ability"—and each reinforced the popularity of the other…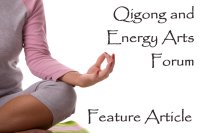 Science and the Problem with Chi by Bruce Holbrook
The concept of chi is confusing to Western readers, not because it is a difficult one, but because our own culture stands in the way. Given such widespread ethnocentrism, it is only natural therefore that Western thinking beyond the scope of "science" has surrounded chi with a mystical aura, while "scientific thinking" has reduced and deformed the concept into something manageable on its own terms. Such terms are untrue to the original concept and reality of chi…
Mainstream Medical Journals say Acupuncture Works; Skeptics Irritated. by Dr. Philip Tan-Gatue (Qi Spot: Acupuncture, Chinese Medicine and More)
Despite this overwhelming evidence proving the mechanisms of action and efficaciousness of acupuncture, skeptics were outraged at the publication of an article supportive of acupuncture in the venerable New England Journal of Medicine. An article recently posted in the Forbes "science business" section stated that the article is "embarrassing" and that acupuncture "infiltrates" the University of Maryland Medical School. In the article, the author calls acupuncture "pseudoscience" and states that it is based on "magical thinking of non-existent life-force…"
Derren Brown Investigates The Man with X-Ray Eyes by Martial Development
In the second episode of his latest television series, Darren Brown Investigates…, the illusionist set out to test The Bronnikov Method of human potential development. This system–based in ancient Tibetan Yoga–promises to awaken dormant human skills and abilities, among them the ability to see while blindfolded, or indeed with no eyes at all…
On Chi, Consciousness and Quantum Gravity by Mark Nesti
I am of the belief that western society, in a general sense, is not yet ready to tackle the more advanced forms of meditation. My reasoning is that, as a culture, we have not yet been exposed to this type of practice as a part of our daily activities. You will see what I mean as we progress….
Opinions expressed in this article series do not necessarily represent those of its publisher, and should not be taken as a substitute for professional medical advice.