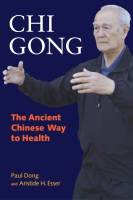 Chi theory is an ontology, in which it is pointless to declare one's belief or disbelief prior to understanding. In this excerpt from Chi Gong: The Ancient Chinese Way to Health, author Bruce Holbrook addresses the root of the controversy, which is neither logic or science, but cultural impedance.
The concept of chi is confusing to Western readers, not because it is a difficult one, but because our own culture stands in the way.
Occidental civilization is based on certain religious and philosophical premises which invite false translation of chi and related concepts. For example, our philosophy forces a choice between two fundamental levels of reality, which in the Chinese worldview are but a single one. That historically recent epistemological expression of our civilization, science, forcefully fights against comprehension of a single reality. Through out this section, therefore, "science" and related terms such as "physical," are used within quotation marks when they refer to Western concepts. This may promote correction of the false, but very widespread, ethnocentric assumption that Western science is the only form of science.
Our "science" is firmly based on inanimate models and data-recording devices, whereas chi (in the central sense of this book) is intimately related to distinctively animate phenomena and cultivated human sensing. An additional problem is that Western science–especially "medical science"–has become dogmatic, so that it rejects any logical conclusion which lies outside its paradigm. The prevailing attitude is: If we can't deal with it on our terms, it does not exist, because only our terms are valid. Cultural anthropologists call such systematic ignorance "ethnocentrism"–being confined, unaware of the confinement, by one's own culture.
Western scientists can describe in unparalleled detail a decline in metabolic energy and regenerative capacity, but as soon as they state or suggest that these are the causes of natural dying, they are refusing to answer the question at hand: How does a human die of natural causes?
Given such widespread ethnocentrism, it is only natural therefore that Western thinking beyond the scope of "science" has surrounded chi with a mystical aura, while "scientific thinking" has reduced and deformed the concept into something manageable on its own terms. Such terms are untrue to the original concept and reality of chi. Beyond that there is a natural difficulty with distinctions among different kinds of chi. This can give rise to the impression that Chinese thinkers indulged in unnecessary conceptual multiplication to compensate for their own weaknesses in natural scientific understanding. Nothing could be further from the truth.
Because Western thinkers do think in "scientific terms," much of the following clarification and simplification of the chi concept uses them. But the reader should understand that this is to approach chi from the odd angle obliged by our conceptual repertoire, and that this is not by any means an attempt to "scientifically" prove or explain the existence of chi. The scope of "science" is too narrow to provide adequately for such a concept.
I think the best way to begin is with a distinction between two basic kinds of chi in living organisms, original and formative, as variables which 'fill holes' left by Western science. In this way cultural-conceptual confusion is precluded. It is primarily a matter of common sense.
I begin with a personal experience of a kind the reader may find easy to replicate or remember. As an adolescent frequently in front of a mirror, I noticed that when I was in a good mood my hair would stay combed, but when I was depressed it would fall out of place. (As I learned later, li, in the medical expression li chi–to organize the chi–is the same as in li in li tou-fa–to comb the hair.) Plainly, this phenomenon involved an electromagnetic (EM) field, but, I reasoned, there must be some mood-related phenomenon, other than or more than mood, which was responsible for the EM energy and fluctuations in the energy level of the field. I could envision my body as an EM coil, my hair as iron filings forming a pattern partly determined by the EM field around the coil–but what was the battery or generator of electricity? The answer to that lies in a recognition of Western science's illogical treatment of the matter of life and death.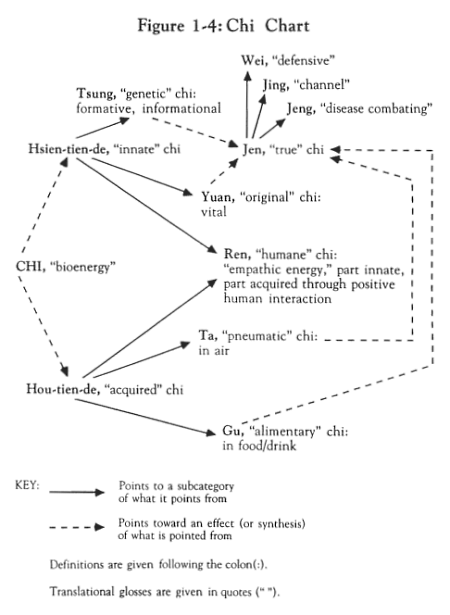 Western science recognizes, via its metering devices, that the living organism possesses an EM field. And both meters and Kirlian photography show that the field extends beyond the "physical" (visible, palpable) boundary of the body. But "science" proposes that this field is biologically secondary, an effect produced by the biochemical substances of the body. This seems logical enough until we ask: What is the difference between a living human (or animal or plant) and a corpse, and why? What causes fetuses to be formed? What causes living tissue to regenerate? To these questions science has no answers that are not circular or evasive in logic.
The differences between a living human being and a corpse are that the former has an EM field and movement (together called "bioenergy") and neutral chemical acidity, whereas the latter lacks an EM field, does not move, and is highly acidic. Three possible implied explanations for the changes between the living and the dead can be stated in the form of propositions: (1) absence of bioenergy is an effect of altered biochemistry (the Western scientific proposition; (2) altered biochemistry and exhaustion of bioenergy are effects of a third factor; (3) altered biochemistry is an effect of exhaustion of bioenergy (the Chinese scientific proposition).
(1) The Western Scientific Proposition This first explanation is the one used by modern science, and as we'll see it is an illogical and a let's-pull-ourselves-up-by-the-bootstraps type of thinking. Altered biochemistry requires an alterer. Chemical substances cannot in themselves account for the alteration. That is, given the formulas for these substances and the fact of their replenishment from blood, no change is predictable. As far as biochemical description can go–the biochemical composition of cells and fluids–the structure of the body of a healthy young person is the same as that of one who is about to die of old age.
Let's further examine the western scientific proposition in order to approach the reality and nature of chi. From the perspective of a biochemist, it might be proposed that the independent variable is simply entropy–the "negative force" which diffuses concentrations of energy…..[continued]