Finishing the Game: The Search for a New Bruce Lee
[Amazon] [IMDB] [Netflix]
Starring Dustin Nguyen, Roger Fan, Aiko Tanaka and M.C. Hammer
Loosely based on the true story of Bruce Lee's "lost footage", Finishing the Game is a dry, sharply written satire of 70's era Kung Fu filmmaking. Martial artists and genre fans will enjoy it immensely, but newcomers may not appreciate its subtle humor.
My rating: A-

Finishing the Game
Fist Foot Way

[Amazon] [IMDB] [Netflix]
Starring Danny McBride
If Finishing the Game was a little too dry, this low-budget Tae Kwon Do comedy is a little too dumb. Pathetic strip-mall instructor Fred Simmons abuses his students, and idolizes movie star Chuck "The Truck" Wallace. When Wallace finally pays a visit to his dojang–and his horny wife–Simmons' martial virtues are put to the test.
A few scenes in this movie will make you laugh, and a few others will make you squirm.
My rating: B-

The Fist Foot Way
Three Kingdoms: Resurrection of the Dragon
[Amazon] [IMDB] [Netflix]
Starring Andy Lau, Maggie Q and Sammo Hung
Romance of the Three Kingdoms, written more than 500 years ago, has long been one of China's most treasured novels. Andy Lau's film is the first of two released this year, to be based on this classic work of historical fiction. Although short on the individual fight action scenes that identify the typical "martial arts movie", it is nevertheless an entertaining work.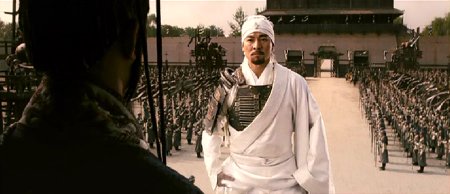 The second Three Kingdoms movie, John Woo's Battle of Red Cliff, will be released as a two-part epic. The first two-hour section is available now, and the last is scheduled for January 2009.
My ratings: B+ for Three Kingdoms and Red Cliff
Redbelt
[Amazon] [IMDB] [Netflix]
Starring Chiwetel Ejiofor and Tim Allen
I am not usually a fan of American martial arts dramas, with their second-rate fight choreography (in comparison to Hong Kong) and shallow moral lecturing. Redbelt was a pleasant surprise. David Mamet shuns most of the Miyagi-style stereotypes, and delivers a moving, suspenseful story with three-dimensional human beings.
My rating: A-
More of the Best…

Jet Li in Warlords
Some of the Rest…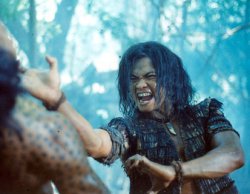 Tony Jaa in
Ong Bak 2
These martial arts movies were also released this year, but I haven't had the opportunity to watch them. If you've seen one, please share your review below.
Are there any I forgot to mention?