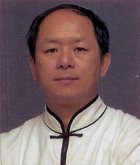 Dr. Yang Jwing-Ming
From his recent interview with Lama Somananda Tantrapa…
"Between the ages of 9 and 12, I had almost no food. Taiwan was preparing for a war against mainland China. Most of us kids were starving.
There were nine children in my family, and at that time, feeding nine children was not easy. All our problems gave me an ulcer by the time I was 16 years old.
One day, I was sitting in the corner in a cold sweat. My White Crane Kung Fu master said I had a stomach problem. "What should I do?" I asked him. I had no medicine, and no money to see a doctor.
"At that time, in the early 1960s, you could not go learn another style without your master's approval. It was not like today—people making 'chop suey' by mixing all these different styles."
He said, "I've heard that Taiji can help you relax your internal organs."
My master encouraged me to learn Tai Chi Chuan. That is the reason I started at the early age of 16. My motivation was not fighting; it was to ease the pain of my ulcer, and hopefully to heal myself.
Did it work? It surprised me. Six months later, the painful episodes had been reduced. After most of a year, they disappeared.
So that is why I started practicing Tai Chi Chuan. It is not because I liked it…I hated it, but it helped me to calm down.
Listen to the entire MP3 interview with Dr. Jwing-Ming Yang at Secrets of the Qigong Masters.