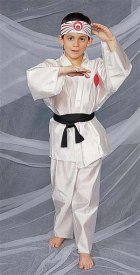 ENGLEWOOD, CO—After months of being taught to develop courage, inner strength, and other values of the martial arts, Daniel Finkelstein finally achieved the self-confidence necessary to stand up to his parents and quit taking karate lessons, the area sixth-grader reported Monday.
Finkelstein, 11, who was bullied into beginner's classes at Dragon Karate and Tae Kwon Do Academy by his father in July, reportedly drew on a number of recently acquired skills, including poise and self-assurance, when confronting his parents about how much he despised karate.
"Before karate, I used to let everyone—my mom, my dad, even my grandma—push me around," Finkelstein said. "They would tell me what to do and I would just roll over and do it, because they were bigger than me and I was scared."
"If it wasn't for the focus and determination I learned in karate, I would still be in karate right now," he added.
News story continued at The Onion. Hat tip to Skeptical Personal Development.