Shield and spear
To the ancient Romans, the concept of a non-violent martial art would be nonsensical. Their literal definition of martial was "belonging to Mars", the god of war. Modern usage of the term martial arts, however, is hardly related to military strategy and tactics.
Today, most popular martial arts are practiced without arms. Considering this shift in focus, from immediate and practical skills to more abstract and long-term benefits, it is reasonable to ask whether violent destructive potential is still necessary at all.
Is a non-violent martial art worthy of study?
Before we can attempt to answer this question, we should first clarify the definition. There are two distinct categories of non-violent martial arts.
The first category is exemplified by Aikido, which can be translated as The Way of Peace, or The Way of Harmony. Under mainline Aikido philosophy, starting a fight is impermissible, but ending it is compulsory. Destroying one's attacker is not ideal; yet this is recognized, in some circumstances, as a practical necessity.
Members of the second category of non-combative martial arts are not necessarily pacifist in disposition, but inadvertently harmless due to their complete lack of non-cooperative practice. In the absence of testing, formerly proven attack and defense techniques decay into empty symbolism. Dahnmudo apparently belongs to this second category, as do those schools of taiji that omit tui shou and san shou from their curriculum.
No Conflicts, No Resolutions
[The need for conflict resolution skills] is based on the premise that poorly handled conflicts lie at the core of emotional distress. With more effective conflict resolution patterns, individuals, couples, and families and distress can move toward resolution of their underlying difficulties and resume emotionally healthy living.

Business people, lawyers, political leaders, parents and children—in fact, all of us—deal with conflicts daily. Few of us want altercations to disrupt the smooth flow of our lives. We want what we want, but without loss of a cooperative atmosphere in our homes and at our workplaces.

Source: Skills and Strategies for Individual, Couple, and Family Therapy
In life, interpersonal and intrapersonal strife are inevitable; effective conflict resolution skills are not. Freestyle sparring is one way to develop these worthwhile skills.
This is not to say that all personal conflicts can be resolved with lightning-fast punches, brutal kicks and excruciating joint locks. It doesn't mean that you beat up your boss after being asked to work overtime. The refined martial skill set contains far more subtlety and depth.
Relevant conflict resolution skills, summarized in a recent article by Drs. Jeanne Segal and Jaelline Jaffe, include:
the ability to recognize and read nonverbal cues
the capacity to remain relaxed and focused in tense situations
the ability to experience intense emotions and recognize what matters most to you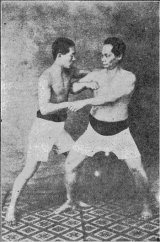 These qualities are a natural byproduct of jiyu kumite. They are not passed down from master to student via verbal instruction; they are inculcated by the rigors of the practice itself. Competent conflict management is not learned so much as earned.
Dojo, or Day Spa?
Freestyle sparring is perceived as excessively dangerous by those without experience: resulting in hard feelings at best, serious physical injury at worst. In reality, these risks are minimal with proper supervision and guidance.
Students of non-competitive martial arts shoulder a far greater risk, that of failed investment; that, after spending much time and money in an artificially stress-free environment, they are no better equipped to cope with trial and tribulation.
Persuing short-term comfort and control at the expense of challenge and growth, these students have missed an important lesson. When the challenges inside the dojo exceed those outside of it, life itself may become an oasis.