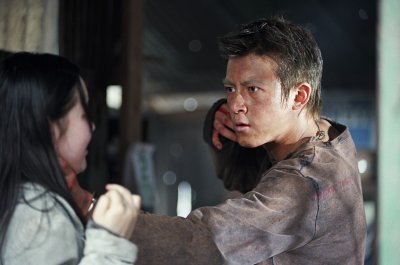 Dog Bite Dog [Amazon.com] [Netflix] [IMDB]
After a Cambodian child slave turned assassin completes his assignment, he in turn becomes the target of a vengeful Hong Kong cop. There are no heroic figures in Dog Bite Dog, and no glorification of violence. This stunningly brutal film illustrates an unfortunate truth: the fight isn't over until everyone is satisfied, and nobody is content with a loss.
Shinobi: Heart Under Blade [Amazon.com] [Netflix] [IMDB]
When Shakespeare penned Romeo and Juliet, he crudely omitted ninjas. Director Ten Shimoyama rectifies the poet's error with this story of the superhuman Koga and Iga ninja clans. Defying the Shogun's orders to duel until mutual extinction, two lovestruck ninjas struggle to avoid a tragic fate.

Shinobi: Heart Under Blade
Ninja clans demonstrate their skills for Hattori Hanzo and Yagyu Munenori
Flash Point (a.k.a. City Without Mercy) [Amazon.com] [Netflix] [IMDB]
Good cop Donnie Yen battles bad criminal Collin Chou. The plot is forgettable, but the martial arts choreography is superb, combining elements of boxing, kung fu and jujutsu. Along with last year's Kill Zone, Flash Point sets a new standard for cinematic action sequences.
I need your help to complete this top 5 list. What other great martial arts films were released to theatres and/or DVD this year?