My first exposure to the Wu (Hao) style of Tai Chi occurred at the Taiji Forum 2006 conference in Thunder Bay, Ontario. I noticed a few significant differences between its postures and those of the more popular Yang style: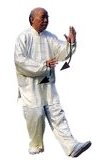 The stance is shorter and more upright.
Arm and leg movements are smaller.
Hands remain in front of the body.
Both feet rotate simultaneously when turning.
Movements in the form are repeated to left and right sides.
Wu (Hao) style was developed in the 1800s by Wu Yuxiang, with inspiration from Chen and Yang predecessors. However, based on my limited exposure, it seems equally similar to some schools of Wing Chun. Other conference attendees made similar observations.
Wu (Hao) style can be distinguished from the Wing Chun of Yip Man and his descendants by these characteristics, among others: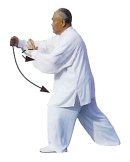 Movements are smooth and circular.
Armpits are slightly open.
Weight frequently shifts onto and off of the front leg.
Unfortunately, instructors of Wu (Hao) Tai Chi are few and far between. I think that Wing Chun practitioners who are interested in broadening their horizons will enjoy sampling this style.