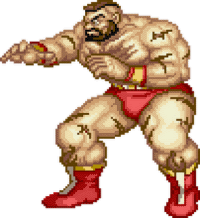 Hey, Zangief Kid. Millions of people are talking about you these days. They are talking about that final bullying event, captured on video two weeks ago, that made you Internet famous. Reporters, school officials, and other so-called experts are discussing how such events should be "handled" or "managed," as if they indicated a simple policy failure.
I think you know better, Little Zangief, and so do I. Now, rather than adding to the punditry, I'd like to say a few words to you directly. But first, a quick recap, and please correct me if I am wrong…
School bullies hounded you for years. They tormented you daily, to such an extent that others were reluctant to be seen as your friend, lest they be forced to share in your suffering.
When a group of bullies ambushed you, their scrawny leader throwing punches while the rest stood by in approval, you finally snapped. They had your back against the wall, both figuratively and literally, Zangief. So, on the fifth punch,