How much do you really know about the history of martial arts? Test your knowledge with this Martial Development interactive quiz.
If you don't know the answer to any of these questions, you are welcome to look it up first, either online or offline. That's not cheating, folks–it's research!
Which martial art is said to have been transmitted to its founder in a dream?
Which martial art was originally taught and/or practiced by criminals?
Which martial art was created specifically for theatrical performance?
Which martial art was designed to prepare a student's mind and body for spiritual cultivation?
Which martial art attempts to use an attacker's own strength against them?
Which martial art was developed to restore the national and cultural pride of a subjugated population?
Which martial art's practices are camouflaged within the movement of dance?
In which martial art were the deadliest and most dangerous techniques intentionally removed, so that the remainder could be safely trained at a higher intensity?
Which empty-handed martial art is actually used in modern warfare?
Which martial art is never practiced without a weapon in hand?
Which martial art draws its principles and techniques from among the best of older arts, while discarding the stale and useless aspects of those same arts?
Which martial art famously restored the failing health of its own master(s)?
Which martial art is best practiced alone?
Official Contest Rules
Answer as many questions as you wish, either in a comment below, or on your own blog. You may answer the questions in detail, or if you prefer, simply provide the name(s) of the martial art(s). All those who answer five or more questions–correctly or not–will become eligible for a special prize!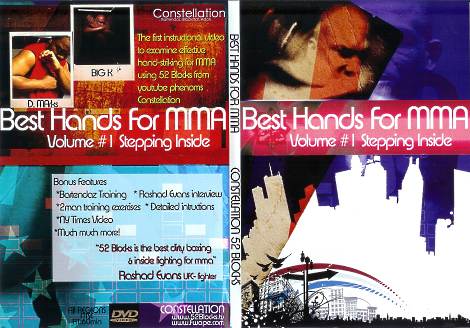 On September 17, I will randomly select one eligible entry to win a free copy of the Best Hands for MMA Volume 1 DVD, by Fwape*. Fwape is dedicated to the preservation and dissemination of 52 Blocks (a.k.a. Jailhouse Rock, or "dirty boxing"), "in light of its cultural importance and its potential to steer African-American men to more positive futures." (Women and non-African-Americans can practice 52 Blocks too–I think?)
All those who can answer ten or more questions, are invited to pose one additional question of their own.
Good luck and have fun!
September 18 Update: The prize has been awarded–but you may still take the quiz.
* Fwape (Haitian Creole): To strike, or throw to the ground.