Mastery is efficiency.  A master of their art simultaneously exerts less effort, and achieves greater results than others.  Wouldn't it would be wonderful if attaining mastery was as easy as defining it? 
It is that easy, and that difficult.
Defining mastery is the same as understanding mastery, is the same as embodying mastery.  An accurate definition guides productive study and practice, which leads to greater skill and understanding; this in turn provides the foundation for a clearer definition.  It is a continuous upward spiral of feedback and refinement. 
Without this clarification, no amount of effort can lead to improvement.  The spiral flattens out, and the student runs in circles.  There is movement, but no progress.
Unfortunately, most students do not recognize the importance of a clear definition as a destination, or acknowledge the fact that it will change over time.  With no destination, and no way to measure their progress towards it, they can only imitate their instructor and hope for the best.  This is not the road to mastery, but to mediocrity.  Even supposing their witless imitation is a faithful one, it will be ill-fitted to their unique body and temperament.  Furthermore, the student will emulate their instructors' bad habits and personal quirks.  After a few generations of such dilution, the original skills are inevitably lost.
The great kung fu masters of the past did not acquire their exceptional skills through rote imitation.  Nobody taught Aikido to Morihei Ueshiba, or Yang Tai Chi to Yang Luchan, or Yiquan to Wang Xiangzhai, to name a few examples; their respective arts did not exist until they created them.  Though these arts were certainly influenced by the traditions of the ancestors, they were perfected through direct observation of universal law.
According to Morihei Ueshiba himself: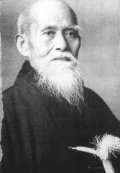 Morihei Ueshiba
Founder of Aikido
All techniques, every one, must be in line with the Truth of the Universe. Technique which is not will surely rebound and cause the destruction of one's own body. Any martial activity which is not tied to the universe in harmony is not to be called the art of Takemusu. 
This raises a few questions, among them:
How is martial arts study an investigation of universal law? 
What should a student be doing in class, if not imitating the instructor?