In medical science, one must pay attention not to plausible theorizing, but to experience and reason together.
— Hippocrates
The James Randi Educational Foundation has not validated any extraordinary human ability; ergo, none is likely to exist.
— Anonymous crank
Are psi and other forms of mental kung fu real? Some research suggests that they are, but to properly evaluate the data, you need a solid background in experimental design, statistical probability, and the subject itself. Science is hard.
Supposition and common-sense appeals are easy, and unlike research data, they always support the desired outcome. A suitable bit of folk wisdom can be found to justify any emotional investment.
For example, if you want to master a difficult new skill, you'll remember that practice makes perfect; later, if you become frustrated and finally give up, it is only because you can't teach an old dog new tricks. This is all ex post facto rationalization—not reason, and certainly not science.
So belief and disbelief are not two poles on the spectrum of opinion, or two sides of the same coin. They are both on the same side of the coin. There is nothing inherently rational about a default to skepticism, it's just another bias.
Maybe we can do better than that.
According to reason, you can do neither the one thing nor the other; according to reason, you can defend neither of the propositions. Do not, then, reprove for error those who have made a choice; for you know nothing about it…You must wager. It is not optional. You are embarked.
— Blaise Pascal
The JREF Million Dollar Paranormal Challenge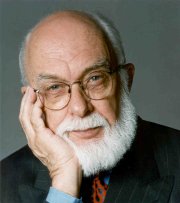 James Randi
Since 1964, stage magician James Randi has offered a large cash prize to "anyone who can show, under proper observing conditions, evidence of any paranormal, supernatural, or occult power or event." Nobody has successfully collected the prize, and to some skeptical observers, this strongly suggests that such skills do not exist.
Ironically, these Randi acolytes seem to have abandoned their critical thinking skills. Even if paranormal abilities did exist, the Challenge would probably not uncover them. A simple thought experiment explains why…
To enter the Million Dollar Challenge, a claimant must be willing; to succeed, they must be able to demonstrate their power to the satisfaction of the JREF. Applying basic game theory, we can represent these possibilities in a four-cell matrix.
| | | |
| --- | --- | --- |
| | Willing | Not Willing |
| Able | "X-Men" | "Monks" |
| Not Able | "Conmen" | "Normals" |
The potential players are classified into four groups:
X-Men possess supernatural power, and desire the money or fame they would earn by winning the challenge.
Monks also possess this extraordinary ability, but are not interested in anything the JREF has to offer.
Normals cannot win, and will not try.
Conmen have no paranormal skills, but want to become rich and famous anyway.
The optimal success strategy is different for each type of player. By definition, Monks and Normals have nothing to gain from entering the Million Dollar Challenge, so they simply do not. The other two categories are more interesting.
The Conmen's strategy is to claim extraordinary powers, while simultaneously avoiding any objective tests that would expose their true identity. Conmen can easily become rich and famous without James Randi's assistance, by preying on the large population of people who want something—anything—to believe in.
Indeed, the JREF's often juvenile and emotionally tone-deaf missives are more likely to strengthen the Conmen's position than to weaken it, by recasting them as victims in need of rescue—an ineffective approach for an organization purportedly dedicated to scientific education!
This leaves only the "X-Men" (übermenschen is too awkward), for which the Million Dollar Challenge would at first seem a worthy endeavor. X-Men want cash, Randi offers cash; so what's the problem?
A Psychic Star Search
Is it the rigors of the test? The official rules state that the claimant must beat a one-in-one-million chance of success, which is far a more demanding standard than is typically used in this type of inquiry.
(One wonders if James Randi, who professes to know the alphabet, would be able to recite it even one thousand times in succession, without error. In the name of science, I hereby extend this One Dollar Challenge to him—but I will not cover travel expenses.)
Let us assume that genuine X-Men can meet this requirement without difficulty, and ask a more important question: what is the market value of such a reliable psychic ability? If X-Men are rational actors, motivated by material wealth, fame, or both, should they expose themselves in public for a measly million-dollar reward?
Obviously not. A privately held psychic ability would offer an incalculable advantage in the potentially lucrative fields of gambling or securities trading; a dousing rod that locates oil instead of water could make its owner a multi-millionaire; and so on.
Money is no trouble for X-Men, if they exist. And as for the fame: a person with demonstrable supernatural powers would need publicity help from the JREF, like a fish needs a bicycle.
The Hustle
If false, it is of no importance, and if true, it is of infinite importance. The only thing it cannot be is moderately important.
— C. S. Lewis
I have no doubt that the James Randi Educational Foundation is staffed with intelligent workers, who have thoroughly considered the issues above. Yet the challenge remains open. They cannot hope to prove the negative, that no "paranormal, supernatural, or occult power or event" exists; they are harangued by mentally impaired contest applicants (is there any other kind?); what is their motivation to continue?
The Million Dollar Challenge FAQ cites Webster's definition of paranormal: "not scientifically explainable, supernatural." As science continues to move forward, we can state with certainty that today's paranormal will be tomorrow's normal. To assert otherwise is to claim that science is finished, which is absurd. A piece is missing from this puzzle.
Rule 12 states that the JREF is only interested in testing applicants with an established "media presence", and rule 4 grants the JREF the right to publish the applicants' identities and performance data as they see fit. These official rules were designed to govern the challenge, and also to advance the JREF mission…
And that mission is?