Rabid fans of mixed martial arts often consider their sport to be a proven, scientific, and highly evolved form of fighting. Modern MMA practices are contrasted with those of American Judo and Karate-do—unwittingly cast to represent "traditional martial arts" at large—and judged uniformly superior.
Putting aside the revisionist history underlying such comparisons, let us consider the possibility and implications of MMA's evolution. What can Darwin's theory teach us about the present state, predict for the future fate of mixed martial arts?
Ask a Dodo About MMA
Many centuries ago, a flock of pigeons departed their native land, roosting on the tiny Indian island of Mauritius. Enjoyed the relaxing tropical atmosphere, and an environment free of natural predators, they decided to stay awhile.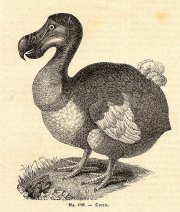 While the vast ocean protected the birds from attack, evolutionary forces reshaped their bodies and minds. They got big, and maybe a little fat. They stopped flying around, preferring to walk instead. Some even claim the birds turned dumb. In short, the pigeons evolved into Dodo birds.
Within their restricted environment, the Dodo birds were champions of survival. Alas, mankind eventually changed the rules.
As humans settled on the island, they brought along their dogs, cats, pigs, and other domestic animals. Although the Dodo birds were much larger and stronger than their flying ancestors, they were nevertheless unable to compete against these new threats. The Dodo bird went extinct in the late 17th century, and any Dodo bird industries were shut down forthwith.
Change Is Not Progress
The story of the Dodo bird illustrates that relative fitness to a particular ecosystem, does not indicate unconditional superiority.
Cultural practices and disciplines are also subject to variation, reproduction and natural selection. Like biological organisms, martial arts evolve with their environment. If we are to seriously consider MMA as an evolved form of traditional martial arts, then we must answer the following questions:
How do we define the ecosystem of mixed martial arts? Where are its boundaries?
What are the natural predators of MMA? And for how long can it be protected?