When alleged masters of kiai-jutsu and no-touch throws use their own students for demonstrations, skeptics cry foul.  If such incredible skills truly exist, the skeptics contend, they should enable the master to stop a skilled and determined attacker whom he has never met; otherwise, it's obviously just bullshido.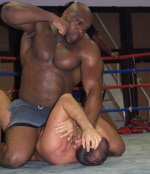 K-1 Fighter Bob "The Beast" Sapp
These skeptics are serving up a false dilemma, lightly seasoned with argumentum ad baculum.  Under their revised laws of physics, the forces of this universe are neatly split into two categories: those which can floor Bob Sapp, and those which simply do not exist.  Fortunately, there is a middle ground where useful and interesting experiments can be performed.
Under one theory, these students are influenced not by chi, but by a subconscious desire to please their chosen guru.  To test this theory, we could use subjects without any such agenda; the ideal subjects would have no predisposition towards the master or his skills, either for or against.  Furthermore, they would be invulnerable to hypnosis and other psychological tricks.  By Occam's razor, we could then assume that the subjects' reactions to the master's chi projection attempts were authentic.
Actually, such experiments have already been conducted, to varying degrees of formality.  One of the most entertaining demonstrations I've seen was performed for the Japanese TV show Amazing Animals.  Dr. Kanzawa, a Japanese kikou (qigong) expert, visited a local zoo and…well, see for yourself.

Amazing Animals visits West Side Park
Featuring a no-touch knockout (on a kangaroo rat)
Can one of our Japanese-fluent readers provide a translation of the dialogue?