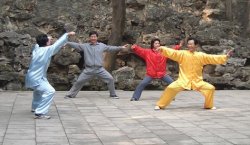 Chen style Tai Chi Chuan practice
Attaining competency in Tai Chi Chuan requires hundreds of hours of correct form practice, and mastery requires thousands more. One impediment to sustained practice is a lack of interest: Tai Chi forms are too boring to perform daily.
Perseverance in the face of boredom builds character; however, feelings of boredom may be a sign that your learning has stalled. To keep your practice fresh, productive and fun, try performing these variations on your standard Tai Chi forms.
Perform a mirror image of the form, with left and right sides reversed. For example, where you would normally turn right and raise your left arm, turn left and raise your right arm instead.
Benefit: This variation will help you appreciate the difference between the movement of the form, and its choreography in a particular direction.
Move at fighting speed. For example, at a normal speed, the Yang style 103 movement hand form can be completed in 20-30 minutes. At fighting speed, it takes 5-7 minutes.
Benefit: Many problems that remain hidden during slow movement will reveal themselves at a faster speed: clumsy footwork, excess tension, collapsed postures, and more. (But remember: if you end up sweating and short of breath, you are not practicing Tai Chi.)
Do it with your eyes closed. Engage and rely upon your other senses.
Benefit: Your balance and listening skills will improve. Also, reducing your reliance on sight will make it easier to "sink the qi" as prescribed by the Tai Chi classics.
When you can play the form backwards at full speed, in the dark, while standing on a sheet of ice, then you have really accomplished something!
What other methods do you use to keep your forms practice interesting?