In these video clips, Tai Chi master Peng Youlian demonstrates a fusion of Chinese and Canadian cultures: Tai Chi Hockey Stick. Peng is one of the only surviving masters of this rare weapon form.
In the first video clip, Peng performs for Canadian politicians Ken Dryden and Ken Boschcoff.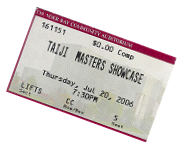 The second clip was taken from the Taiji Masters Showcase in Thunder Bay, Ontario. This show featured performances by Yang Jun, Chen Zhenglei, Zeng Nailiang, and more.
Both clips were recorded during Taiji Forum 2006.