In his final years, the founder of Aikido was seen to demonstrate many skills that defy the layman's understanding of physics. Ueshiba sensei reportedly used sen sen no sen and psychic powers to disrupt his opponent's attacks, threw attackers without touching them, or simply disappeared and reappeared in a safer location.
O-Sensei's disciples and descendants are unable to repeat his incredible demonstrations. Instead, modern Aikido dojos will introduce ki (life energy) principles to their students with the help of a crude parlor trick: orenaite, or the "unbendable arm".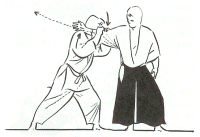 Credit: Oscar Ratti
In a typical performance of the unbendable arm, the ki guy will assume a biomechanically superior position, then ask his mark to try and bend his relaxed*, outstretched arm. When the mark finds himself unable to do so, the ki guy attributes his triumph to extended ki.
If you ever find yourself on the wrong end of an unbendable arm, here is a sneaky trick you can use to regain the upper hand. Reposition the ki guy's hip as shown in the video below, misaligning his spine*, and decreasing his ability to resist your force.
To learn more silly tricks—like tearing a phonebook in half, breaking bricks, or showing your iron body—visit BadKungfu.net.
* Relaxing your muscles does improve your ki flow, and bad posture does impede it. Unbendable arm is a trick because these facts are irrelevant to the feat, not because they are untrue.