As shown in The 20 Best Martial Arts Quotes of all Time, many of the most intelligent and insightful observations on martial arts originate outside its community. Let us now select a few more choice quotations from the art world at large.
A man paints with his brains and not with his hands.
~ Michelangelo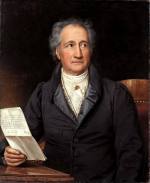 Goethe
Art is long, life short; judgment difficult, opportunity transient.
~ Johann Wolfgang von Goethe
Many are willing to suffer for their art. Few are willing to learn to draw.
~ Simon Munnery

No artist is ahead of his time. He is his time. It is just that the others are behind the time.
~ Martha Graham
Art is what you can get away with.
~ Andy Warhol
Oscar Wilde
Poor is the pupil who does not surpass his master.
~ Leonardo da Vinci
It is only an auctioneer who can equally and impartially admire all schools of art.
~ Oscar Wilde
The victor will never be asked if he told the truth.
~ Adolf Hitler
The Contest
Your assignment, should you choose to accept it: choose any one of these quotes, and explain how you feel it applies to martial arts. You can write a 5-page essay, or a single paragraph, or anything in between. Post your response in the comments section below, or post it on your own blog and link back here.
All contest participants will receive a free copy of these e-books: Mind Training for Martial Artists and The Student's Guide to Surviving a Traditional Dojo. In addition, I will randomly select one lucky winner to receive a paperback copy of Willpower: How to Achieve Self-Discipline by Jim Randel.
Update: Although the contest is now over, you are still welcome to share your views below.