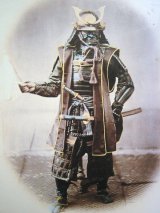 In this installment of our series on the greatest kung fu movies ever made, we consider the samurai genre.
The characteristics of the samurai ethic include courage, loyalty, and honor.  The greatest samurai movies not only illustrate these virtues, but present them in a novel, unexpected, and ultimately enlightening way.
If you are at all familiar with Japanese cinema, you have already seen the great films of Akira Kurosawa—Seven Samurai, Sanjuro, Rashomon, and so on—so I've omitted them from the following list. 
When the Last Sword is Drawn [Reviews at IMDB]
Brought together by chance, two men discuss a mutual acquaintance from the past. One tells the tale of a goofy, greedy, and cowardly mercenary. The other man describes a selfless hero, whose tragic fortune placed him at the front of ill-fated Shinsengumi.

Sword of the Beast [Reviews at IMDB]
Tricked by a cunning minister into assassinating his rival, a bitter samurai escapes into the wilderness. While living as a beast in the forest, he meets another political pawn. Recognizing a set-up, the beast attempts to prevent further tragedy.

Hara-Kiri [Reviews at IMDB]
Directed by Masaki Kobayashi—the Fellini of Japan—Hara-Kiri tells the story of a once-esteemed samurai, seemingly reduced to hustling householders for petty cash. Caught in the act, the desparate ronin agrees to commit suicide—but not before exposing the brutal hypocrisy of his persecutors.
A cinematic masterpiece, Hara-Kiri is in my opinion the finest samurai movie ever filmed.

Have you seen these movies?  What did you think?  Are there any others you would add to the list?