The advances in robotics over the past ten years are amazing to see. Every year, they get harder, better, faster, stronger.
It is inevitable that they will get tired of vacuuming our floors, and rise against us. Fortunately, nobody is teaching them how to fight…right?

Sony QRIO
OK, so they already know a little Chinese boxing–no big deal. Taiji is obviously too slow to use in a real fight. I mean, it's not as if these robots could chase us through the streets, as we flee in terror their steel-reinforced fists…right?

Boston Dynamics BigDog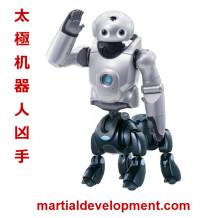 OK, we are all screwed. It is time to start building our human resistance army, for the war against the machines. Here is lesson number 1, courtesy of Stephen Hwa.