A martial arts school is defined primarily by the skills and the personality of its teachers. While technical ability is important, and universally known to be so, the importance of a teacher's personality and attitude is often underestimated.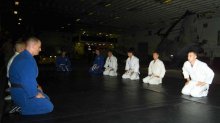 Teachers invest far more time and effort sharpening their martial skills, than in improving their attitude. It is attitude that determines how much they are willing to teach, and what they expect from students in return.
Countless students have been short-changed by teachers who are technically able, yet unwilling to openly share their knowledge and experience. Before committing to any school, a potential student should evaluate the teacher's attitude. 
The Scarcity Mindset
Many people are motivated by fear to study martial arts. Unfortunately, some of these people advance and begin teaching others before they have mastered their fears. These teachers conduct their classes from what I call a "scarcity mindset".
Under the scarcity mindset, everything and everyone is a potential threat—including one's own students. It is a zero-sum game, where, as students become empowered, the teacher grows weaker. Therefore, this type of teacher will carefully manage the information available to their students, to keep them from learning too quickly.
Teachers with a scarcity mindset thrive under popular stereotypes of traditional Asian martial arts practice. Students who directly or indirectly question their wisdom and authority are branded as disrespectful, disloyal and lacking in self-discipline, or even verbally and physically abused. Naïve and inexperienced students have been conditioned by books and movies to accept this as a routine aspect of martial arts training; in any other discipline, such behavior would be rightly condemned.
The methods used by these teachers to control their students include:
Excessive corrections during forms and sparring practice. Their unstated purpose: to ensure a student gains no experience that could contradict the teacher's previous instructions.
Constant criticism of other teachers and schools. This is a great way to stretch 30-40 minutes of actual instruction into a 60-minute class. It also guarantees that trusting students will never leave for greener pastures.
Needless complexity. Replacing the simplest actions (e.g. straight punch) with complicated procedures, and embellishing them with foreign words and technical jargon, hinders a student's ability to advance beyond the basics.
Teaching From Abundance
Teachers who have achieved a measure of physical, emotional and financial independence and self-sufficiency, do not fear their students. Such teachers can help their students reach their full potential in a relatively short amount of time.
Teachers with an "abundance mindset" exhibit these qualities:
Openness. The teacher is willing to answer a student's question, even when the topic isn't listed on the daily lesson plan. No student is unqualified to ask a question.
Simplicity. The teacher gives instruction and explanations in plain language, without jargon. Demonstrations and hands-on corrections are used to prevent confusion and remove ambiguity.
Patience. The teacher does not look to their students for validation, nor claim ownership of their performance. A student is allowed to repeat their mistakes, without harassment, until that student is ready to abandon them.
Teachers with an abundance mindset are willing to help their students reach their own level of ability, or even exceed it. Many such teachers can be found, and a student or potential student of the martial arts need accept nothing less.