Tell the truth, pretty boy. You don't really care whether your martial art works on the streets. You just want to burn calories and build muscle, because that is what works on the beach.
So let me warn you: although Taijiquan can benefit your health, your physical appearance will pay the price. Hazards:
Regular abdominal breathing will relax and stretch your belly, causing abdominal distension.
Standing pole exercises will strengthen your shoulder and back muscles, throwing them into sharper contrast with your scrawny chest and arms.
Constant feelings of ease will keep a goofy smile on your face.
Get Ready for Summer!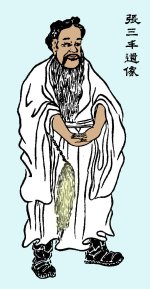 Zhang Sanfeng
Legends say that Taijiquan founder Zhang Sanfeng resembled a sloppy, dim-witted turtle. Unless you wish to follow in his footsteps, you should moderate your practice. Fitness tips:
Intimidate would-be bullies by sticking out your chest and chin.
Super-size your muscles by working each group in isolation. Scientific fact: a sum is no more than its parts.
Smoking and worrying make you thin. Do both as often as possible.
Share your own tips and advice below.